Events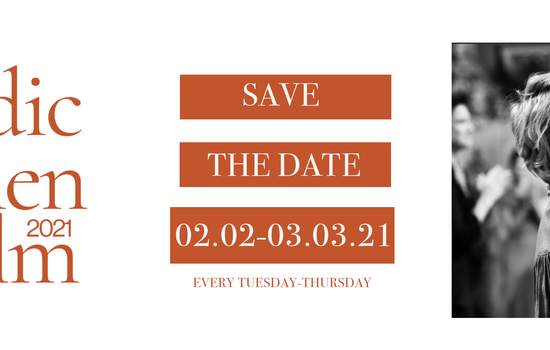 Nordic Women in Film
Posted on: January 27, 2021
The Five Nordic Embassies in Washington DC present
Nordic Women in Film
Online in February-March 2021.
Nordic Women in Film is a five-week celebration of artistic ambition and cultural exchange.
During five weeks between February 2 and March 3, you can watch 5 films from across the Nordic countries, meet their crew and participate in 5 special conversations with Nordic and U.S. filmmakers. All films and events are free of charge.
What happens with love when a woman in the middle of her life gets three months left to live?
A woman jeopardizes both her career and her family when she seduces her teenage stepson.
A talented author-painter searches fiercely for identity, desire, and freedom.
Enjoy 5 fascinating films from Iceland, Finland, Denmark, Norway and Sweden.
Listen to Sundance-winners Ísold Uggadóttir and May el-Toukhy, Oscar-contenders Zaida Bergroth and Maria Søhdahl, U.S. director Pamela B. Green, Samí director Suvi West, award-winning actresses Sofia Helin, Trine Dyrholm, Terry Pheto and many more, as they engage in special conversations with their Nordic and U.S. counterparts. Themes range from boundless success to borderless filmmaking and from inconvenient women to women who define their own reality.
You can find more information about the event, films, speakers and registration links here:
https://www.wifti.net/event/nordic-women-in-film-2021/
Please feel free to share this invitation with your colleagues and friends.
Nordic Women in Film is presented by the Nordic Embassies in the U.S. (Denmark, Finland, Iceland, Norway and Sweden), Women in Film and Television International, and Women in Film & Video Washington, DC. The aim of Nordic Women in Film is to make visible the achievements of women in the creative industries, promote equality and encourage positive role models.