News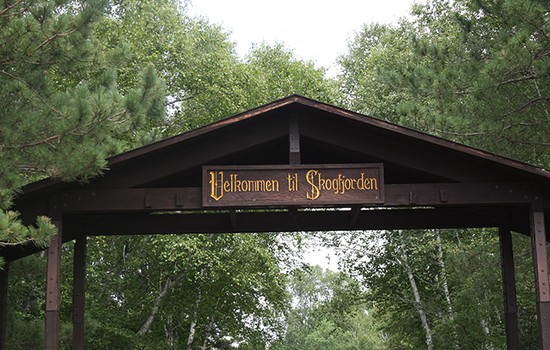 Ready for a Norwegian adventure? Join the staff at Skogfjorden!
Posted on: January 08, 2019
Skogfjorden is the Norwegian language program of the Concordia Language Villages (www.ConcordiaLanguageVillages.org). We offer programs in 15 different languages for thousands of people every year. Norwegian has been offered since 1963 and has distinguished itself by offering programs for all ages.
We are currently looking for summer program staff who would like to work with us June 1-July 23 in 2019 in the beautiful North Woods of northern Minnesota, with our participants from 6 to 18 years of age.
The young people cross a border and enter our village where the everything from the activities, food and buildings are all designed to make it a natural place to learn and use Norwegian for one, two or four weeks of programing. There, our villagers, as we call them, meet the good people we have spent the spring interviewing and hiring who are keen to share their love of Norwegian with others.

Some of the villagers who come to the village come for a summer or two and are true beginners. Some come for as long as 10 summers. Of all the language villages, Skogfjorden actually has one of the highest returning rates of all. It turns out, once our great staff turn kids on to Norwegian, the kids want to come back as long as they can before going on to study Norwegian in college, evening classes or even in Norway itself.
We are looking for staff who are able to join us for the full seven weeks of our summer program. You don't have to be a teacher to apply! Applicants need to have at least one year of college level Norwegian language skills or the equivalent through other experiences. Additionally, interest in, and preferably experience with, young people and things Norwegian are essential for filling out an application. Applications are followed up with a Skype interview with Tove I. Dahl, the dean of the program.
After an interview, those who are offered a position are provided with a salary and room and board for the weeks worked. For those who come work for us from abroad, a contract comes with the papers needed to register for a work permit for the US. People who come on work permits may also travel within the US both before and after the contracted period (the papers will include details with that information).
We provide a full week of training before the kids come, and staff development continues all throughout the summer. Along the way, you develop valuable skills that will help turn on kids to the language and culture of Norway as well as other general skills for working in teams, developing healthy learning communities and more (see the attached poster).
Applications are available online now, and we encourage people to apply as soon as possible. Learn more about us at www.ConcordiaLanguageVillages.org, and go to the bottom of the landing page to click on the "employment" link for the summer program staff application.
We hope to see your application soon and perhaps even meet you up north. Velkommen skal du være!