News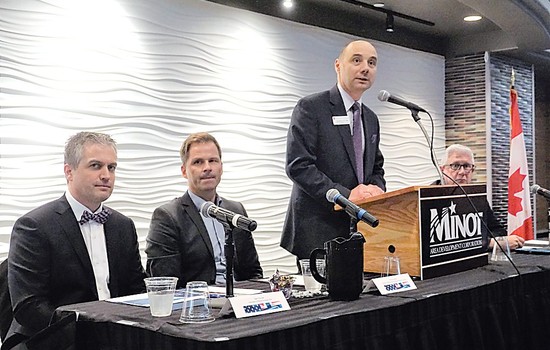 Norwegian company partner with North Dakota drone operation
Posted on: October 03, 2017
A Norway-based manufacturer and a Scandinavian technology company have been teaming up with a North Dakota drone operation to service the region's utility and oil and gas customers.

Bjorn Forsdal with Robot Aviation and Knut Gustavsen with eSmart Systems were among presenters at the annual Minot-Scandinavia Business to Business Networking Seminar held Tuesday in Minot.
Robot Aviation and eSmart are partnering with SkySkopes, a Grand Forks drone-piloting company that recently opened an office in Minot. Each offers a piece of a package to provide customers with the hardware, software and operators to deliver unmanned aerial technology.
"We are looking at market expansion and eventually we might consider doing assembly manufacturing," Forsdal said. Robot Aviation currently manufactures in Poland and has U.S. locations in Grand Forks and Phoenix, Arizona.
"For sure, North Dakota is the most important market for us here. Here is where we have our first customers," Forsdal said.
One of those drone-pioneering customers is Xcel Energy, which also was represented at the B2B seminar.
Mark Nisbet, North Dakota principal manager for Xcel, said Xcel saw the benefits of drones when using the technology to assess pipes in a boiler stack, saving hundreds of thousands of dollars and many man hours in the process.
Experiments with drones in a post-tornado simulation near Mayville revealed post-disaster benefits to a utility. Had drones been available after the 2011 Souris River flood, Xcel would could have assessed infrastructure much more safely than by sending personnel out in boats, Nisbet said. From the benefits he's encountered, he's encouraged there's great potential for the drone industry.
"I am very excited, and especially excited about the role North Dakota is going to take," he said.
eSmart has developed software to analyze data collection from unmanned aerial systems. Although eSmart does not have a North Dakota office yet, it has hired its first employee – in Hillsboro. If the company's software captures the interest of the oil and gas industry, eSmart could consider establishing a Minot location, Gustavsen said. Or it might consider Grand Forks and Fargo, depending on which sector of its business takes off first, he said.
eSmart currently has two offices in the United States and offices in six other countries, including Norway, Sweden and Denmark.
Forsdal said participation in Business to Business means exposure for the industry.
"We hope, first of all, just to get an awareness of our products, but also to meet with customers to explain what we can do. We can do demonstrations to show what these systems can do," he said. "We know we can be more cost efficient."
(Photo: Jill Schramm/MDN Presenting at the Business to Business Networking Seminar Tuesday in Minot are, from left, Bjorn Forsdal with Robot Aviation, Knut Gustavsen with eSmart Systems, moderator Jacek Mrozik with Minot State University and Mark Nisbet with Xcel Energy. )
Published in the Minot Daily News, Oct 1 2017