Events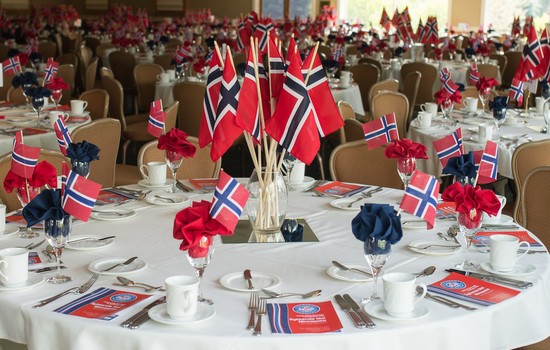 Syttende Mai Banquet
Posted on: April 21, 2017
Event date: May 17, 2017, 5 a.m.
Join us to celebrate Norway's Constitution Day! Each year, the Syttende Mai Minnesota Committee, the Norwegian Honorary Consulate General, and the Sons of Norway Foundation partner to put on this festive and well-attended event.
It is a fantastic opportunity to network with people in the Norwegian-American community. The registration deadline is May 10th. Don't wait to RSVP...tickets sell out quickly!
Reception: 5:00 p.m.
Banquet: 6:30 p.m.
Guest Speaker: Ambassador Sam Heins, Former United States Ambassador to Norway
Menu Options: Surf & Turf (Petite Tender & Salmon) or Vegetarian (Garlic Penne Pasta)
Price: $65 for Adults or $25 for Students (including the Eventbrite online transaction fee)
Note: This event is open seating. If you would like to reserve a table (10 seats), contact the Consulate at: 612.332.3338 (do not purchase tickets through this website). You must pay for all 10 seats and provide the names and meal choices for all of your guests at that time. If you simply purchase 10 tickets on this website, we will have no way to track your order and we will not be able to accommodate your request.