News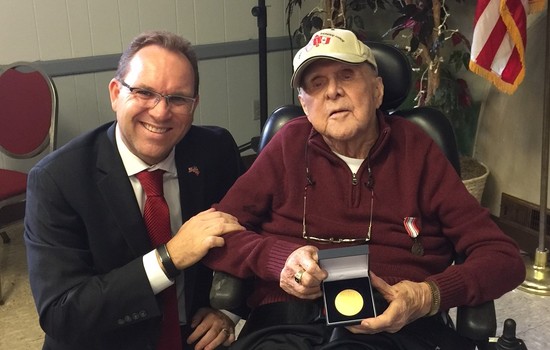 Norway recognizes Hastings' John Hankes for service
Posted on: May 06, 2016
One year ago, John Hankes of Hastings received a prestigious award: the Congressional Gold Medal.
Last weekend, he was recognized again, this time by the Norwegian government. He was presented Norway's Defense Medal, which is an award given to military and civilian personnel who participated in the fight against the German invasion during the occupation of Norway, as well as the Commemorative Medal, which is given to Norwegian and foreign military and civilian personnel in respect to their contribution during World War II.
The medals were presented to Hankes April 30 at a ceremony inside the Hastings American Legion Nelson-Lucking Post 47.
Hankes was also presented with two certificates of thanks, one from the Norwegian government and one from Norway's monarch, His Majesty King Harald V.

Hankes fought during World War II with the First Special Service Force, or "The Devil's Brigade." The force was an elite military group that could land by air or sea into occupied territories.
After the First Special Service Force was disbanded, some of its members, including Hankes, formed the 474th Infantry Regiment, which aided in freeing Norway from German occupation.
Hankes received the awards personally from Eivind Heiberg, the Honorary Consul General of Norway for the State of Minnesota and also the CEO of the Sons of Norway.
Retired Major General Harry Sieben also spoke at the ceremony and thanked Hankes for his service.